Vanilla : One-Page CSS Template
Vanilla is a free one-page css template. It is well designed with a parallax Bootstrap v4.2.1 layout. An ocean blue color theme design really gives you and your visitor a cool feeling. At the right side there is a fixed side bar menu. In the template carousel gallery feature is used for a pop up large image. Features including contact form, map, simple tab contents and more will really make your life easy to finish your outstanding website in a few minutes.
Mini Profile : Free Minimal Web Template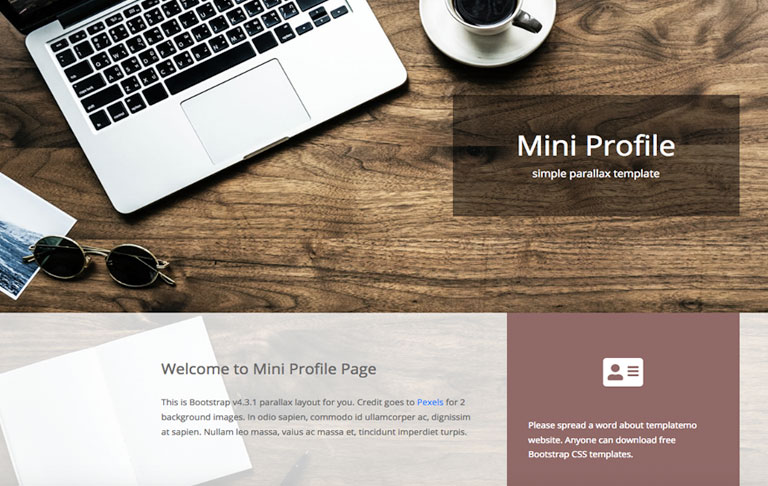 Mini Profile is a one-page CSS/HTML template from template.com. It is neat, simple and powerful enough for personal website. Bootstrap v4.3.1 parallax layout is used. This is best for an easy profile or resume page setup on your website.
Infinity : Minimal HTML template
Infinity is a free and one-page responsive template designed for agencies, freelancers and all kinds of small business websites. It is well built with HTML5 and CSS3 to be responsive so that it can be an all-deviced-friendly template. It is minimal and easy to customize.
Nevada: Minimal One-page HTML Template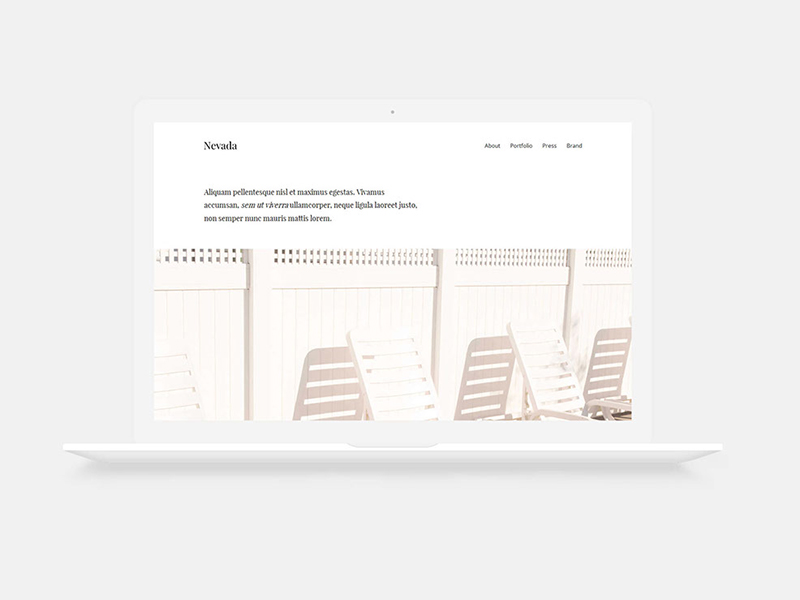 Nevada is a free minimal single HTML template created by Nicola Tolin. The template is a great web template for photographers, designers and visual artists for their simple portfolio for their own work. Nevada is built on Bootstrap framework and easy to be customized. It comes with a lightbox gallery feature to present your images in full resolution. It is 100% free and no registration needed to download.
Standout : Free multipurpose Single Page Template
Standout is a free multipurpose single page HTML5 template. It is beautiful and modern looking free HTML5 web template. It is built with Bootstrap and can be used for personal, corporate, agency, freelancer or small business websites. It is fully responsive and has 6 sections: About, Services, Gallery, Stats, Testimonials and Contact. The best features in this theme are animated CSS3 preloader, slick slider, split header with lightbox video player, on scroll reveal animation, testimonial carousel and so on.
Minimal Dark – Small and Simple HTML Template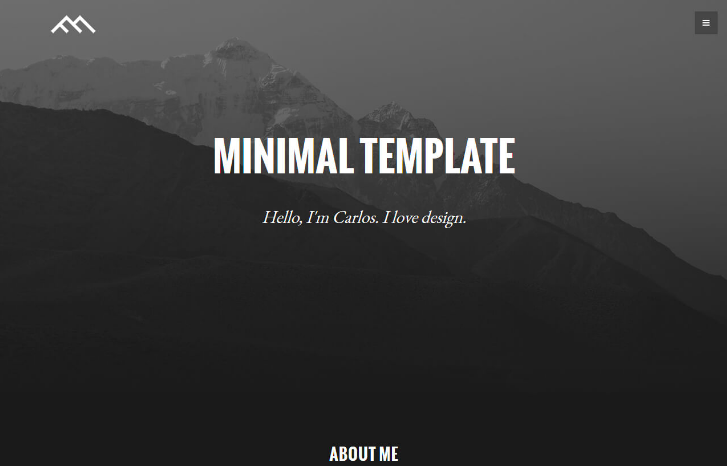 Minimal Dark is a free html Bootstrap template designed by BlackTie. The uniqueness about it is a simple and small web template. Most web developers might think to use as a contact page or a very minimal website. It's built on with Bootstrap framework, therefore it is super fast and responsive. It is most suitable for beginners as the code is simple, clean and easy to follow. The design is unique and elegant and this will make sure people get the best from your website.
Free HTML landing page templates are some essential tools for creating a welcome page where people will get information about your upcoming products. Also, they can register with their emails to get updates. Landing pages are for actions because people have to make a decision here.
New Age : Free CSS Template for Web App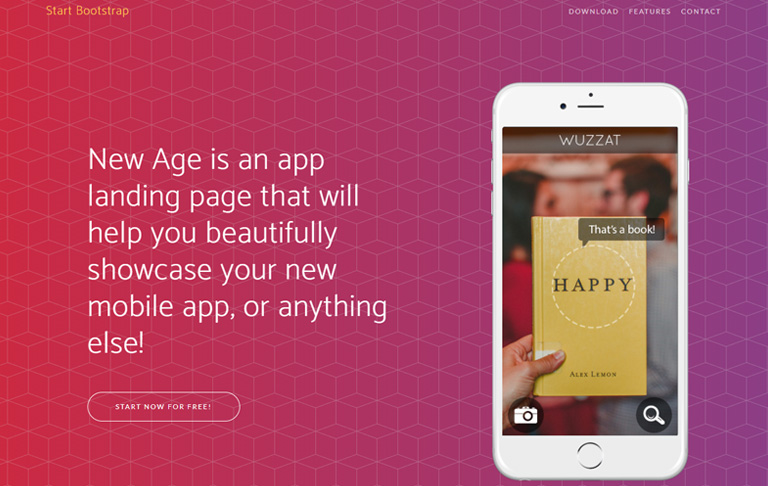 New Age is a free CSS Bootstrap theme to have anything your web landing app. It is easy to customize to display on all kinds latest technology devices. You do not need to have Photoshop or image editing skills. Scrolling animations will really give a nice feeling to your web visitors. This theme features a bold, colorful design with various content sections for your Bootstrap based project. DemoDownload